UNICEF Rights Respecting School
We are very pleased to tell you that in January 2023, Arena Academy was awarded the second stage of UNICEF UK's Rights Respecting Schools Award (RRSA), Silver: Rights Aware.

What does it mean to be a Rights Respecting School?
We are always striving to create the best possible learning environment for our young people and this achievement shows that we are committed to promoting and realising children's rights and encouraging adults, children and young people to respect the rights of others in school.
UNICEF (United Nations Children's Fund) is the world's leading organisation working for children and their rights, and we will be joining a community of over 4,500 schools in the UK working on the Rights Respecting Schools Award. You can find out more about UNICEF, the United Nations Convention on the Rights of the Child and the Rights Respecting Schools Award from the RRSA website: www.unicef.org.uk/rrsa
The Rights Respecting Schools Award (RRSA) focuses on children's rights in schools and takes a whole-school approach to child rights and human rights education. Child Rights Education (CRE) can be defined as learning about rights, learning through rights and learning for rights within an overall context of education as a right. It aims to build the capacity of children as rights-holders to claim their rights, and the capacity of adults as duty-bearers to fulfil their obligations. Child rights education helps adults and children to work together, providing the space and encouragement for the meaningful participation and sustained civic engagement of children.
Why are we involved?
At Arena Academy, we believe in the power of education to inspire, to enable, and to enrich every life. The fundamental principles of the RRSA allow us to further enhance and develop this as it gives us a framework through which to further empower and develop our children to recognise their rights and responsibilities as they journey through their education. The Rights Respecting Schools Award (RRSA) has a profound impact on children and young people, and the school as a whole. When the principles and values of the UN Convention on the Rights of the Child (CRC) are introduced and reinforced throughout school life, children and the wider school community benefit. As schools implement the RRSA standards, they enable children and young people to make informed decisions and to grow into confident, active and empowered citizens. Right Respecting Schools across the country have reported that that the Award has many positive impacts including improved relationships and wellbeing, leading to better attendance and improved learning.
What does it involve?
During form time, our students cover 'Article of the Week'. This is an opportunity to discuss and share articles (rights) and do related activities to stretch their thinking. It's a chance to discuss and explore new articles in relation to their life and see how the convention is followed in countries around the world. Our students are also involved in fundraising for UNICEF initiatives/campaigns such as ShoeShare and World Children's Day.
We have set up a group of UNICEF Ambassadors from Year 7-11 who meet regularly to implement the action plan which is to ensure that:
• The United Nations Convention on the Rights of the Child (CRC) underpins our values and decision making in school.
• The whole school learns about the CRC and respects the rights of others.
• Children are empowered to become active learners and active local and global citizens.
Our UNICEF Ambassadors have created the Children's Rights Charter which has been signed by every student and can be found on form notice boards.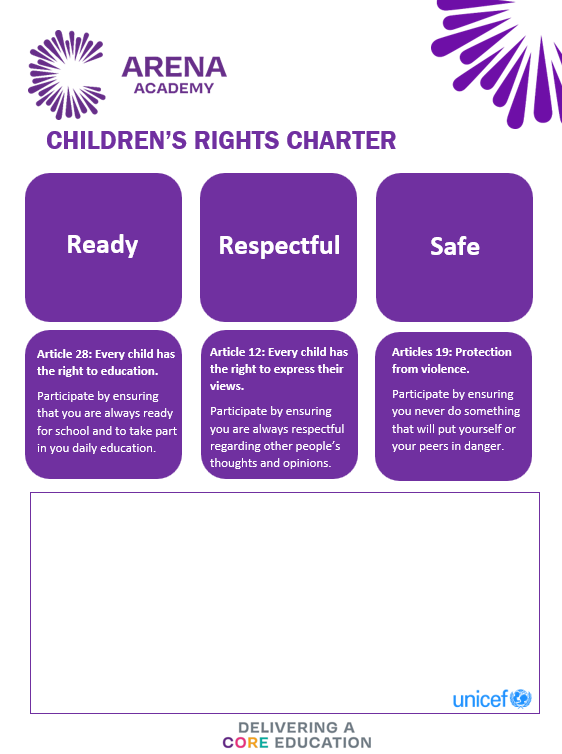 What are the main areas of impact we have seen?
· Increased opportunities for student voice/leadership.
· Improved self-esteem and well-being through campaigning.
· Improved relationships and behaviour policies.
· Improved engagement in global justice.
· Enhanced moral understanding.
What are our next steps?
Our next step is to work with the OutRight campaign. OutRight is a campaign for children, by children that helps you to promote and protect children's rights in the UK and around the world.
This year's campaign is all about children and young people's right to the best possible health and the systems that support it. By taking part we are supporting children and young people to learn about children's rights and ensure their voices are heard by decision-makers.
UNICEF has worked with governments and partners around the world since the start of the COVID-19 pandemic, supporting the health systems that children and their families depend on. We've seen unprecedented disruption to life-saving health services. This has put children's lives and futures at risk. But now the world has a once in a generation chance to learn from the pandemic, strengthen health systems and protect children's futures. By taking part in OutRight, the annual youth campaign, this year young people will develop their knowledge of health, global healthcare systems, and how these relate to their rights.
We want to empower and inspire young people to think about and share their views on children's rights in their local communities and more widely too. You can find out more about OutRight here https://www.unicef.org.uk/rights-respecting-schools/wp-content/uploads/sites/4/2022/08/YP-OutRight-Intro-pack-2022.pdf.
How can parents and carers help their child to know their rights?
· Spend time talking about the articles at home. https://www.unicef.org.uk/rights-respecting-schools/wp-content/uploads/sites/4/2017/01/Summary-of-the-UNCRC.pdf
· Look at the children's (Newsround), local and worldwide news. These will often link with rights learning.
· Talk about and work through the 'Article of the Week' tasks that are posted on Twitter each week. https://twitter.com/COREArenaAcad
· Discuss learning about rights and encourage pupils to relate rights to current issues.
· Join in with local charity events and school charity days.
· Take action for positive change in your local community e.g. litter pick, recycle; plastic, metal, clothing, leafleting to raise awareness.
· Give an hour of your time to charity e.g., the homeless, elderly, a hospice.
· Encourage your child to take action for positive change in their local and global community. E.g. clear the plastics from our seas and oceans.
Please support us on our continued RRSA journey.
Miss Nahar (RRSA Coordinator and Head of RE) and the UNICEF Ambassadors.